DISCLOSURE: This post may contain affiliate links, meaning I get a commission if you decide to make a purcase through my links, at no cost to you. Please read my
disclosure
for more info.
Bubble painting is a fun activity many kids love but it turns out that it can be a bit tricky to make work. I didn't expect it to be so hard to get the bubble solution to make bubbles after adding paint. Which was a bit of a disappointment. With a little playing, I did find something that worked well and we did get a great canvas painting out of the project.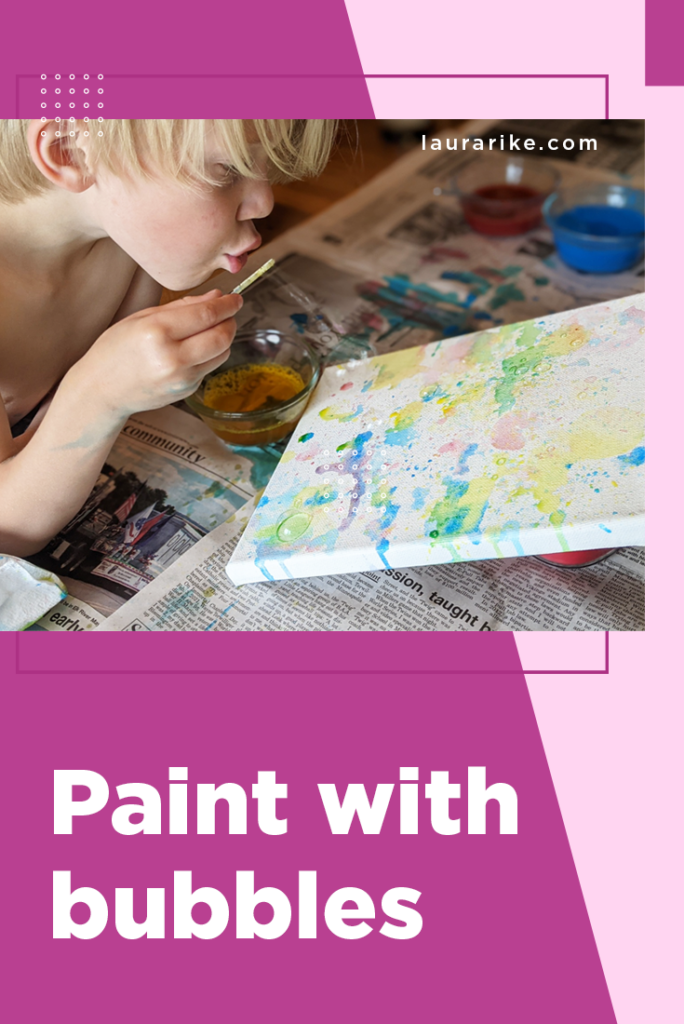 Bubble Painting Activity
I used canvas for this to have a memorable piece of art I can keep long after my son is grown up. I just love how it turned out and the great memories I have connected to this project. If you just want something to keep the kids busy for a bit, regular paper will work. For better results try a watercolor paper designed to pick up the liquid colors better.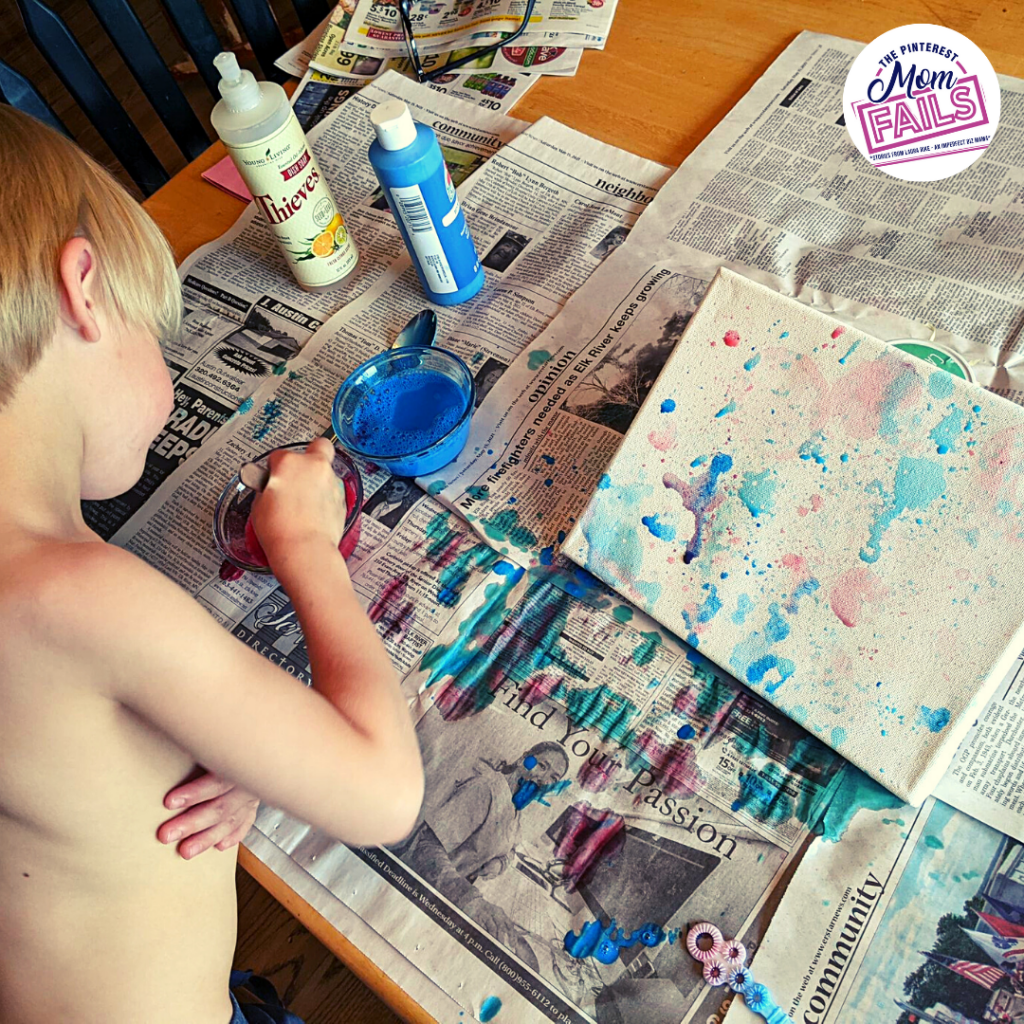 What you need:
Bubble solution
Paint or food dye
Bubble wands
Paper or canvas
While you can make your own bubbles using dish soap and water to make a bubble solution. This can be tricky as we learned not all dish detergents make the best bubbles and adding a bit of vegetable glycerin can help improrve the bubble solution to help keep the bubbles sturdy so they do not pop before you can blow them.
The tiny party favor size bottles of bubbles make a great option for this project as they are self-contained but you have no need to make a large batch of each color that would likely go to waste. When you are done you can put any leftovers up to pull out later to play when you need a quick setup activity. If working with multiple kids mixing in bowls would be more worth the effort so your kids can all dive in without waiting for the color they want to be done.
To add the color you can add washable tempera paint or food coloring. A great way to make the paint and bubbles mix well together is to use a bit of watercolor paint from the tubes as it is designed to resolve into water cleanly. Add more for a deeper color you can add more paint to the bubble solution testing to be sure it still makes quality bubbles with each addition. We used both food coloring and paint but the paint gave us the best overall color.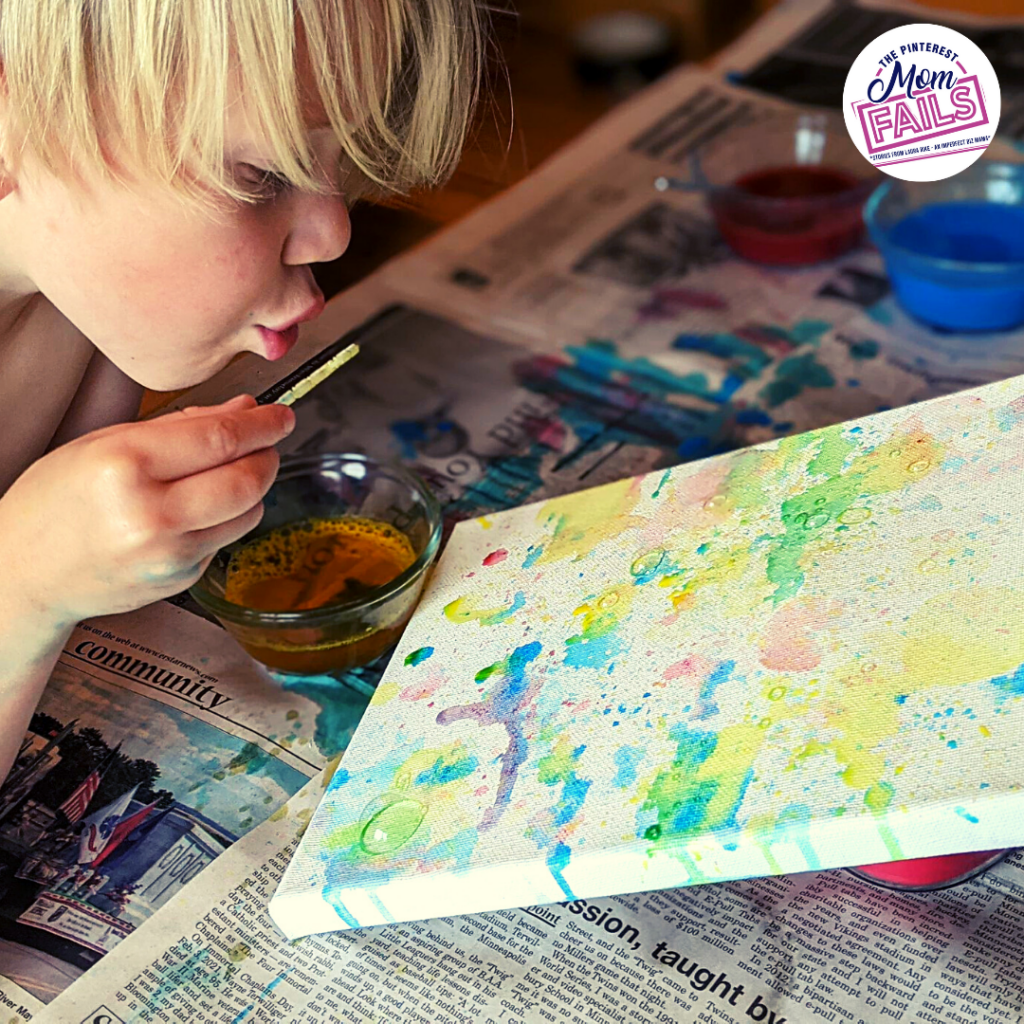 There are two ways you can blow the bubbles for this project. You can place a shallow dish of bubble solution and paint down and have your child blow bubbles with a straw before placing the paper down onto the bubbles to make a print or have some more fun the way we did it.
For this I had my son blow paint bubbles onto the canvas and watch them pop. This can be a great way to keep kids busy and having fun. You can even try different bubble-blowing wands to mix it up.
How to control the mess
While you can take this outside it does make a great in-door activity for keeping the kids busy and letting creativity flow. I suggest if you do it indoors to do it in a room that doesn't have non washable fabrics just in case a stray bubble flies off. Line the table or floor you are working with using newspaper or a vinyl tablecloth if you keep one handy for messy art projects. This can me clean up easier. Make sure your child is not wearing clothes you worry about getting ruined. Even the best bubbles can leave drips on the front of a nice shirt and the paint even washable paint may not come out as well as you hope.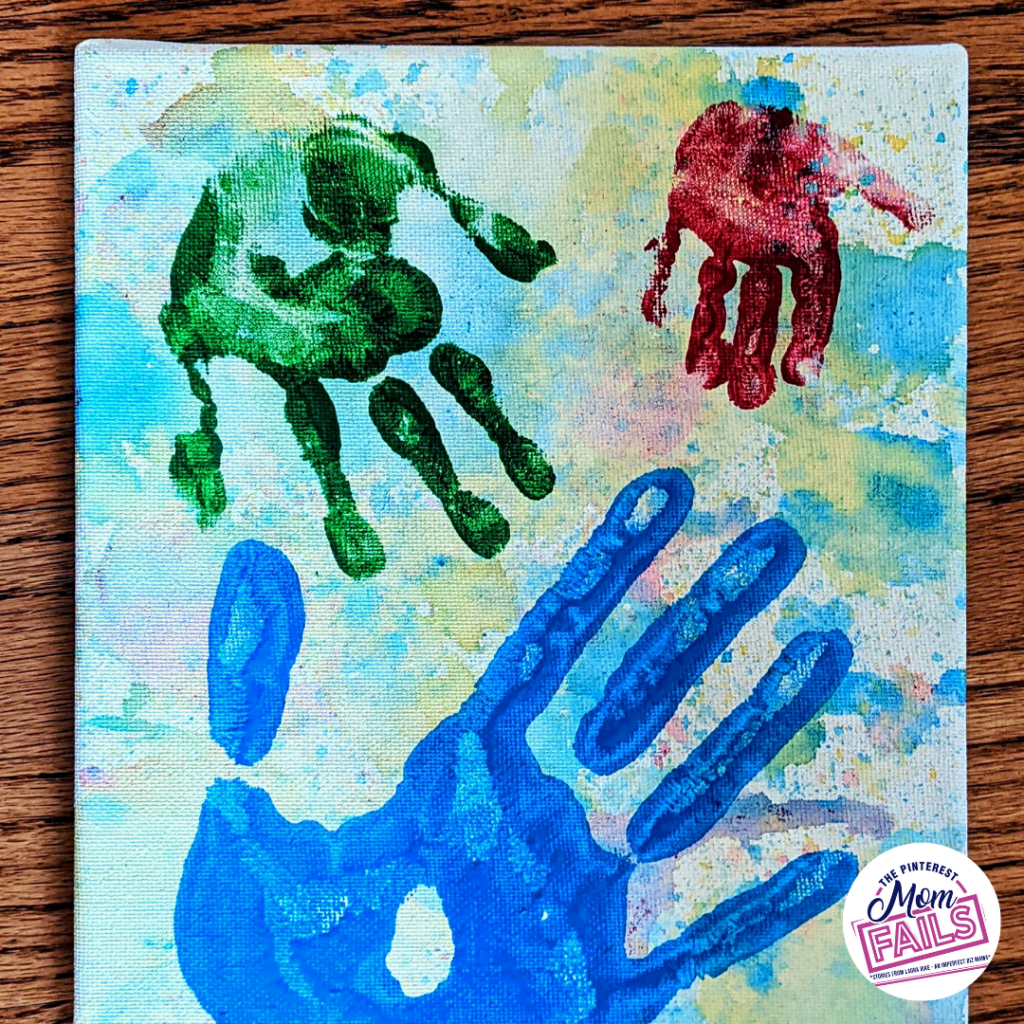 Was this a Pinterest fail?
Overall no this was a great activity that is really enjoyable. It is perfect for indoors with the right mess prevention tools or outdoors where the kids can play and get messy but clean up can be done with the hose or simply let the rain do the job.
The only part of this that could be considered a failure is how many tries it took to get paint bubbles. The best way around this is to start with a little and slowly add more paint while testing to ensure that they still blow good bubbles. If it stops making good bubbles you can add a bit more bubble solution to the mix until the bubbles work again.
Brighter or darker colors work best while pastels tend to be too light to really show up in the final project or end up needing too much paint to show that you end up with a bubble paint that doesn't blow bubbles but instead pops and dribbles paint down.
Looking for some quick, good, clean fun for your kids?
Check out the dough project – all natural, plant-based play-dough!