DISCLOSURE: This post may contain affiliate links, meaning I get a commission if you decide to make a purcase through my links, at no cost to you. Please read my
disclosure
for more info.
Sidewalk chalk is a childhood favorite in the summertime. Kids love to create giant art on the sidewalks and driveway just for the hose or rain to wash it away so they can do it all over again. When you make puffy paint out of the sidewalk chalk, the kids fall in love with his new unique texture making it fun and exciting.
This project is a great way to use up the leftover small bits of chalk that are left over after the kids have been coloring for days with this DIY Puffy sidewalk chalk paint. This makes this project a fun way to use up leftover chalk or simply crush up fresh sticks of chalk if you want more paint.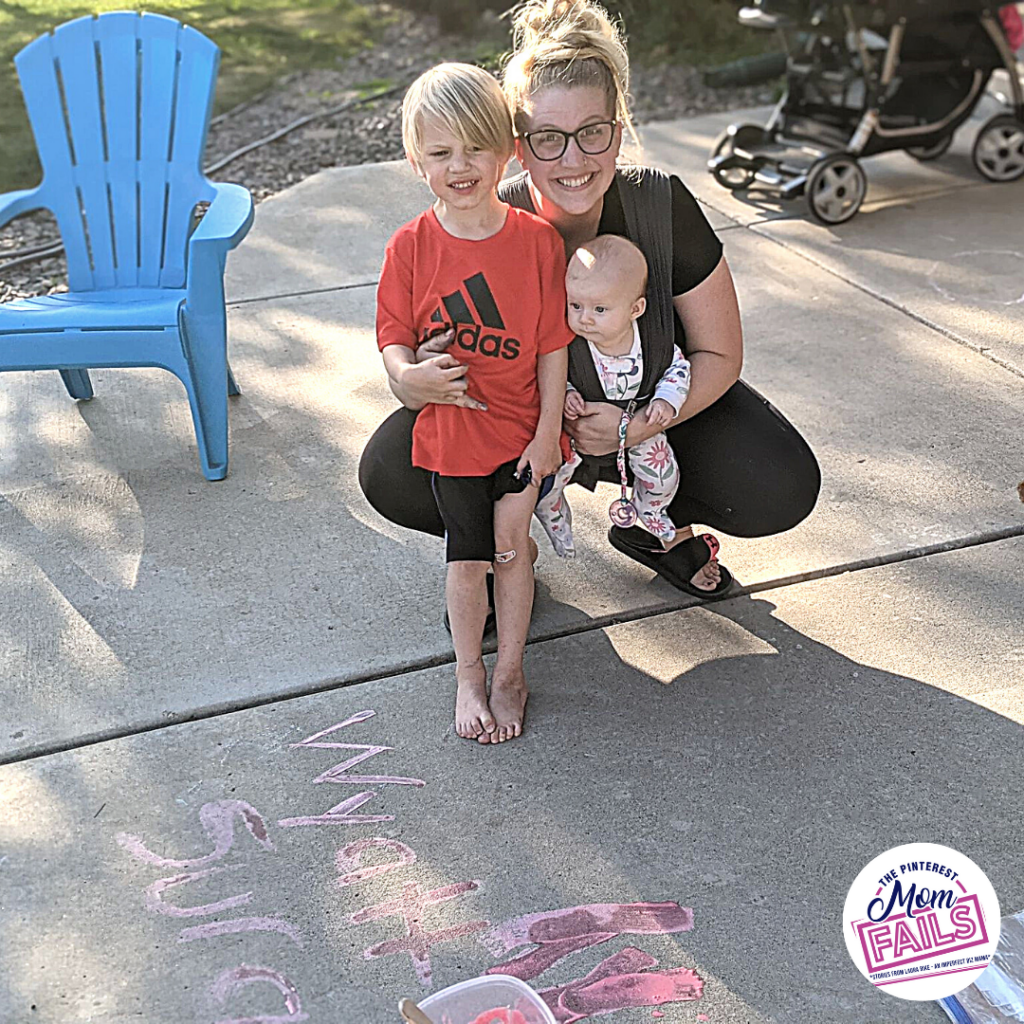 DIY Sidewalk Chalk Puffy Paint
Foam or puffy paint is fun because it adds a new texture and feel to it while giving art a 3-dimensional pop that you can't get with flat paints unless you are extremely talented with shading. Kids love puff paint projects because the change from flat to 3D can be very entertaining.
What you will need to make DIY Sidewalk Chalk puffy Paint:
Small leftover bits of sidewalk chalk
Shaving foam
Water
Bowl
Paintbrushes
Hammer
Plastic zip bags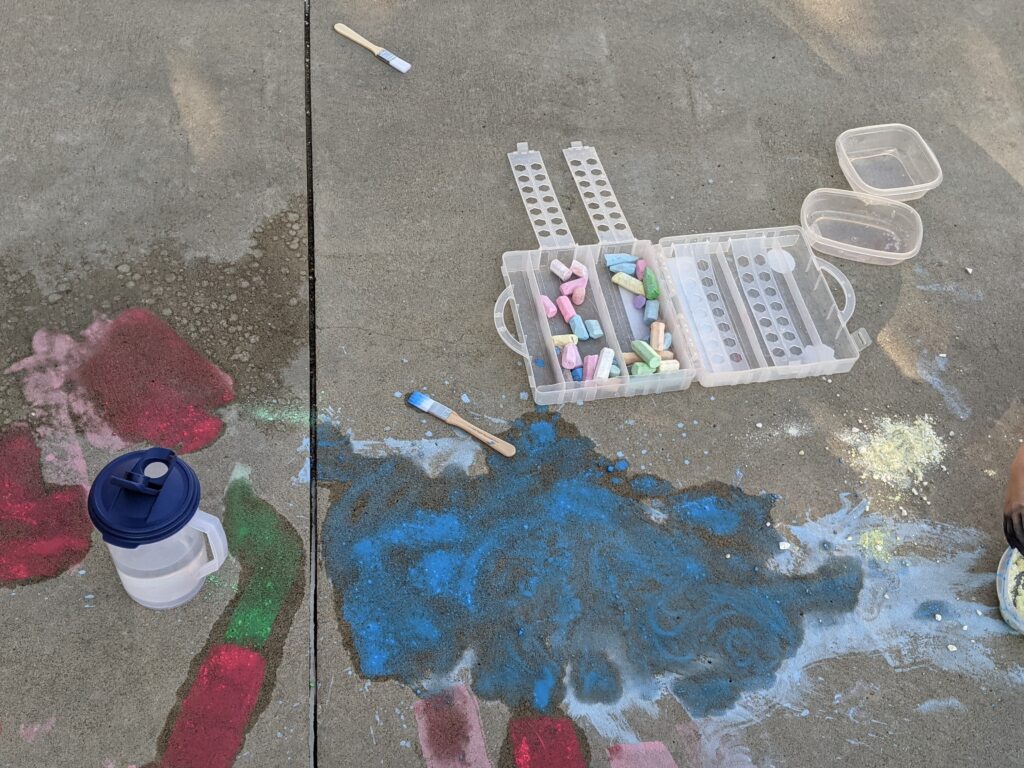 The method we decided to use involves mixing powdered chalk and shaving cream to make puffy sidewalk chalk. To mix the chalk, you need to break it down into a powder form. The recipe I found originally suggested using a grater to break the chalk down for mixing but this seems like a great way to cut your hand while trying to grate a hard piece of chalk. I decided to do something a whole lot more fun and place the chalk into plastic zip bags and let the kids crush the chalk with a hammer. This was fun, and they had a great time while burning off a lot of energy and working on gross motor skills.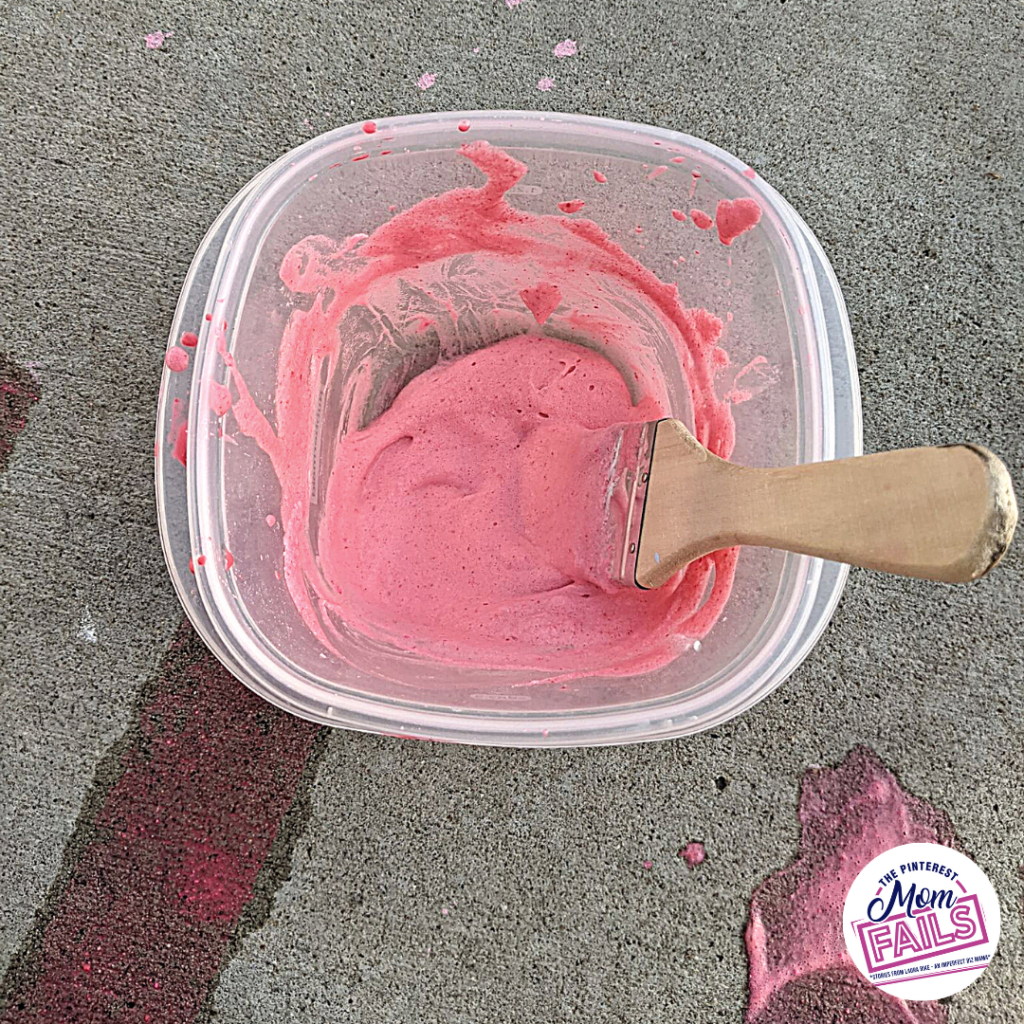 For the best results, I took a rolling pin over the bags after the boys busted the chalk up with a hammer to help make more of it into the fine powder that mixes better with the shaving cream. After it was powdered well, the powder mixed perfectly into a few ounces of water. You may need to let it sit for a moment for it to really mix well.
The best combination we used was a 3 to 1 ratio of shaving cream and powdered chalk water. This gave us some good puff and firmness with a bright, vibrant color. We tried just making chalk paint by mixing chalk and water, but this just gave us a runny mess that didn't leave behind many colors on the driveway. For the best results, use a true shaving foam cream like Barbersol rather than one of the newer gel-like creams that can affect the overall texture should it not fully foam up.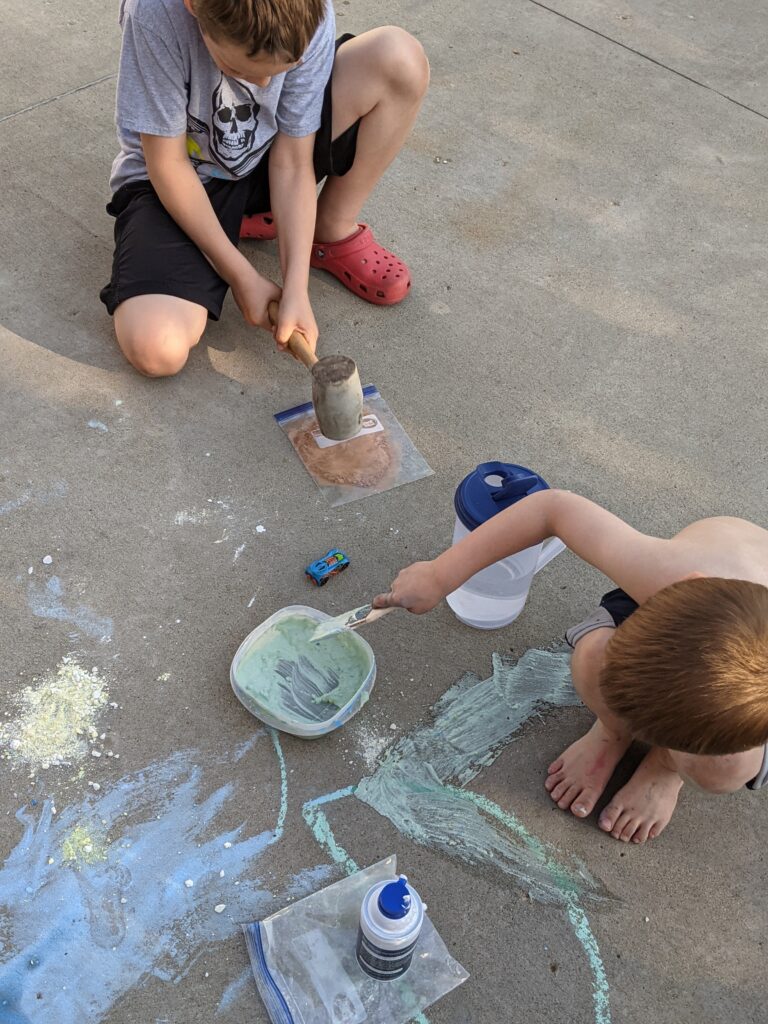 Want to mix it up even more?
Add cornstarch – For a ticker, more vibrant chalk paint, you can add corn starch that will help give the paint a more solid color without adding more and more chalk dust to the mix. If you do not have quite enough chalk dust, you can use cornstarch to help fill in gaps for a great chalk paint with less chalk.
Glitter – One option for taking things up a notch is to add some glitter to your homemade chalk putty paint. For this one, you want to be careful to use biodegradable glitter so that when it washes away, the glitter will break down and not end up in our oceans or soil causing pollution.
Squeeze bottles – To get fine lines with plenty of puff you can put this puffy chalk paint into squeeze bottles that can then be used to draw on the ground. If you purchased a tie-dye kit and tried the squirt gun tye-dye activity, you may have some squirt bottles just sitting around leftover but old catch-up bottles work great for this.
Use this to work on writing skills – Chalk and chalk paint are a great way to work on gross motor skills, but it is also great to work on skills like writing. Many kids struggle with fine motor skills and can benefit from using gross motor skills to memorize how to write letters and numbers before doing it on paper. You can use this activity to work on your child learning to write their name or practice spelling words for a reluctant writer.
Was this a Pinterest fail?
This ended up being a great activity for the boys and lasted them a really long time. I had planned to just use items we already had in the house, but I quickly learned that the old paintbrushes we had were well past due for being tossed out, so I grabbed some new ones from the dollar store that had fresh soft bristles without paint on them which gave a better brush stroke.