DISCLOSURE: This post may contain affiliate links, meaning I get a commission if you decide to make a purcase through my links, at no cost to you. Please read my
disclosure
for more info.
Working from home requires a lot of self-motivation, dedication, and focus. This type of career choice isn't for the weak. If you truly want to succeed in the work from home arena then you're going to have to develop and expand upon your current skills to be able to work at maximum productivity levels, no matter what type of distractions head your way. That's why I've developed my own list of unique work from home hacks to help you work to your full potential every day.
Work From Home Hacks for Maximum Productivity
Work at Your "Best Time"
One hack that has helped many work at home professional work to their maximum productivity levels is knowing what is the best time of day to get their work done. Some work from home pros can get all of their work done during a regular first shift type schedule while others prefer to work in the evenings and still other work from home pros prefer to work overnight when everyone is asleep. Whatever time is your "best time" to be at maximum productivity is the time you should set your work from home schedule to.
NOW sometimes this means my 'best time' is whenever my kiddo is not screaming my name, terrorizing the dog, or needs to eat! lol Yep I said it. My 'Pinterest picture perfect' life online is definitely not picture perfect in real life. THIS is a huge Pinterest mom 'fail' for me because so many mamas talk about their perfectly balanced life – and I'm over here just trying to make it to 5 o'clock so I can shower in peace!! So if that is the case for you then you might have to be FLEXIBLE with your 'best time' or even get creative to make a time that is best for both of you!
For me sometimes it means I only work during nap times and when daddy comes home. Other days we do a mix of mommy working while my toddler plays a game and my infant swings in her chair. Do what works for YOU, your KIDS, and your SANITY. Just remember – you are doing awesome mama. Even when you don't feel like it… you are everything your family needs and so much more!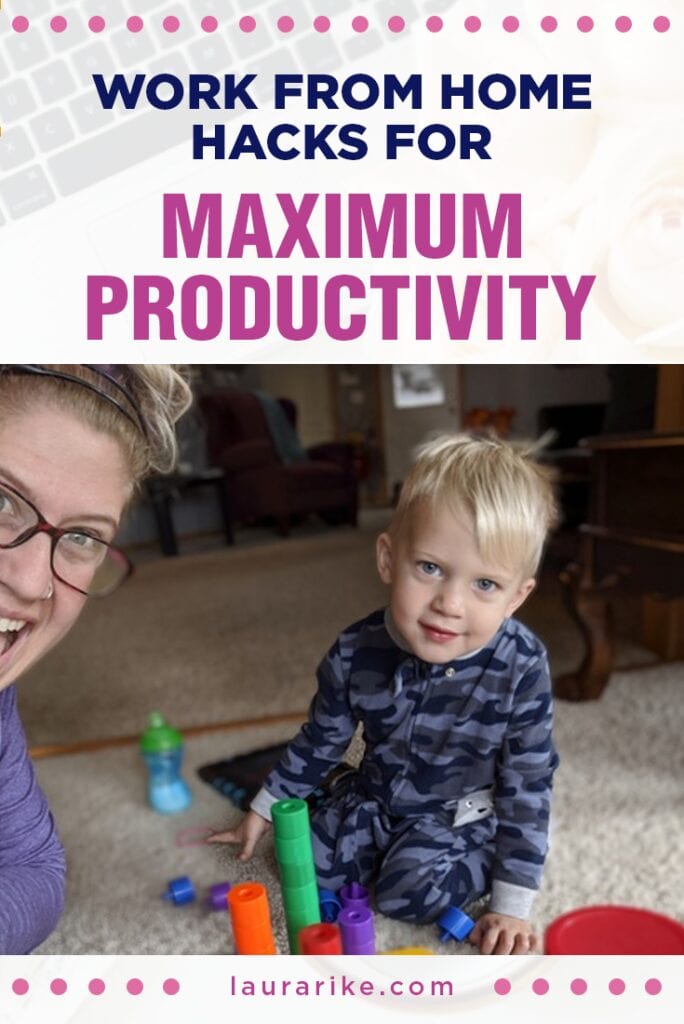 Learn Shortcut Keys
No matter how fast you type you still may have to scroll on a website page or switch between tabs and other small tasks that may not seem like "time suckers" but after all, they truly can take away much of your work from home hours. That's why it's always a good work from home hack to learn shortcut keys. If you're not familiar with what shortcut keys work to do which tasks on your own computer, you can check out this list (https://www.computerhope.com/shortcut.htm ) to find a list of shortcut keys that will help you be more productive during your work from home hours.
Use a Project Tracker or Planning App
You can easily brainstorm ideas or work your daily tasks into a project tracker or planning app. Some apps that work from home professionals use for maximum productivity include Slack, Trello and Asana. There are also some good social media scheduling apps that will help you save time with scheduling and engaging on social media for yourself or clients. Some of the highly recommended apps that help with social media are CoSchedule, Hootsuite, and Buffer.
I personally use SmarterQueue and absolutely love them. Complete GAME changer for me. Managing multiple social media accounts is a nightmare. You need to be active on all your social networks, but you can't keep up with the volume of posts and content. The biggest social networks are all different from each other, so you can't use one tool for everything. Plus, no single tool has everything you need in one place.
SmarterQueue makes managing your top social networks easy with fully-automated posting on all of them! Schedule posts across multiple accounts and multiple channels without having to login to each account separately or worry about timing since our algorithm does that for you! It also lets you manage your content using categories like product updates, blog articles, events, giveaways etc., so it's easier than ever before! PLUS you can create different queues and posting plans based on each category so that everything gets posted when it needs to get posted. It's all automated!
This is personally what my queue looks like: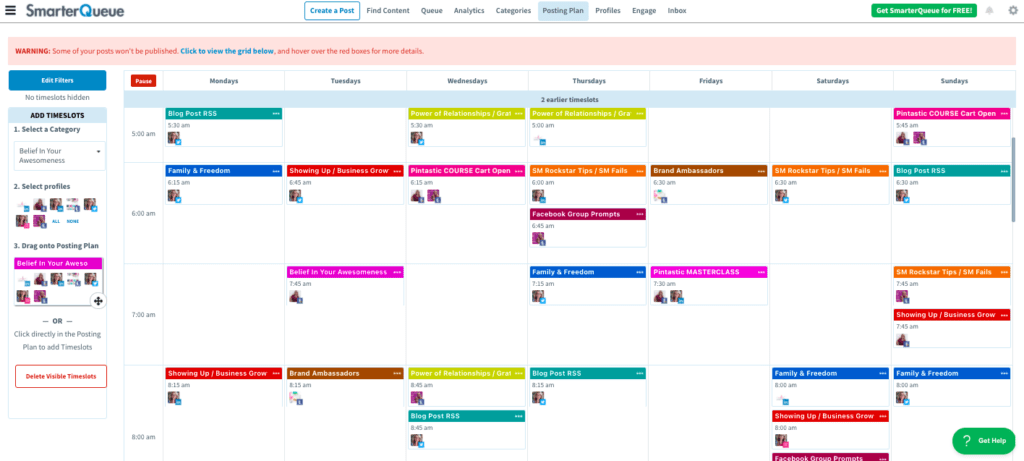 Create a Schedule
Make sure to map out your work from home day so that no matter what time of day you're working, you have a schedule of when you do each particular task. This means you will set blocks of time to check and reply to emails as well as social media. You will set another block of time to work on another task and so on and so forth. Using a block style schedule for your work from home tasks will help you gain maximum productivity as you'll be focused on one task at a time instead of trying to hop in between different tasks, leaving yourself open to distractions.
These are just a few of the work from home hacks for maximum productivity that will inspire you to have a more successful workday every time you hop on that computer to get your work done at home. It doesn't matter what industry you work in, the key is to use these work from home hacks in a way that will help you be successful and productive every single day that you're online to work.