DISCLOSURE: This post may contain affiliate links, meaning I get a commission if you decide to make a purcase through my links, at no cost to you. Please read my
disclosure
for more info.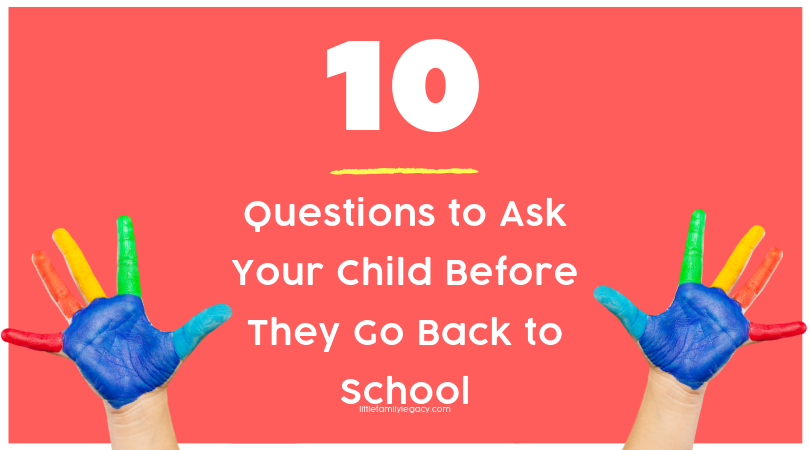 Summer is coming to an end and many have started planning for back to school. When it comes to preparing our kids to return to the classroom, many of us start shopping, organizing and preparing meal plans. In addition to all those tasks, there are a few other things you can do to get them ready.
In fact, one of the best things you can do when it comes to preparing your kids for back to school is ask them some questions. Here are my top 10 Questions to ask your child before they head to school, to help you figure out where their heads are at.
As a mom one of the things I try so so hard to do is LISTEN to my kids. Working online and in social media strategy let alone, I find myself wrapped up in the hustle and bustle of the day. Then what I struggle with is letting it carry on into my time with the family when they are all home. My brain is constantly filled with to-do lists, work reminders, dinner plans and more. What's worse is when I did take a moment to ask my oldest how his day was, or what he did that was fun, I get the same phrase over and over… "um nothing much". SO in an effort to help me slow down, just truly and openly listen to my kids AND get them to give me more than a three word response, I put together some questions I found to be helpful for our family.
I have learned also that having back to school talks in preparation for the big day is incredibly important for your kids. When it comes to creating a productive dialogue with your children about school though, there are a few simple things to keep in mind.
Firstly, you will want to set up a time to have a talk with them in advance. You will want to make sure that your kids are aware that the discussion will focus on back to school and how they feel.

Secondly, it is important to ensure that you choose a time and place where you can have a talk without being interrupted. This will ensure that they can focus on the discussion and feel comfortable airing their feelings.

Thirdly, it is incredibly important that you truly listen to what your kids are telling you, and sometimes that means reading between the lines.
10 Things to Ask Your Kids Before Back to School
Sometimes, when discussing these things with out children, we require a few prompts. Here are 10 questions to ask your kiddo before school starts, that can help you to gain some insight into their thoughts, feelings and even fears that you may not know about.
What are you looking forward to most about back to school?

What are you least looking forward to about back to school?

IS there anything we can do to help motivate you?

What are your back to school goals for this year?

Is there something in particular you are going to do differently this year?

Do you have any specific concerns about heading back?

What do you find your biggest distractions are? How can we help you manage them?

Is there something we can do to make school mornings easier for you?

If there is one thing you could change about your school day, what would it be?

What is the best way for us to gain insight into your school day?
Back to school can be a daunting time for some children and having a conversation in advance with your kids can give them some comfort. These questions can really help you to gain some insight about how your kids feel about heading back, and how you can help to ease their transition. Just make sure to go into the conversation with an open mind, being willing to listen.